5 Foundations Attendance Programme
Following an excellent DFE review into the 5 Foundations of Effective Practice framework, Washwood Heath MAT are in a position to offer four attendance training sessions. Each session has been designed to provide educational settings with a framework and strategy to improve attendance. For too long educational settings have worked tirelessly attempting to improve attendance, without the use of an evidence-informed attendance framework. The 5 Foundations framework will support educational settings to achieve their attendance vision by implementing the 5 Foundations strategy.
The Foundations framework is completely child-centred and ensures there is a whole school approach to improving attendance built on connectedness and belonging. All staff have a role to play in improving attendance, the simplicity of the Foundations model allows to staff to clearly understand their role.
There is a complete cross-reference to the DFE working together to improve attendance paper (2022), this paper will be a statutory paper in September of 2023. Educational settings must be able to demonstrate how their attendance strategy and framework meets the summary of expectations within this paper.
DFE Working together to improve school attendance and the 5 Foundations of Effective Practice Framework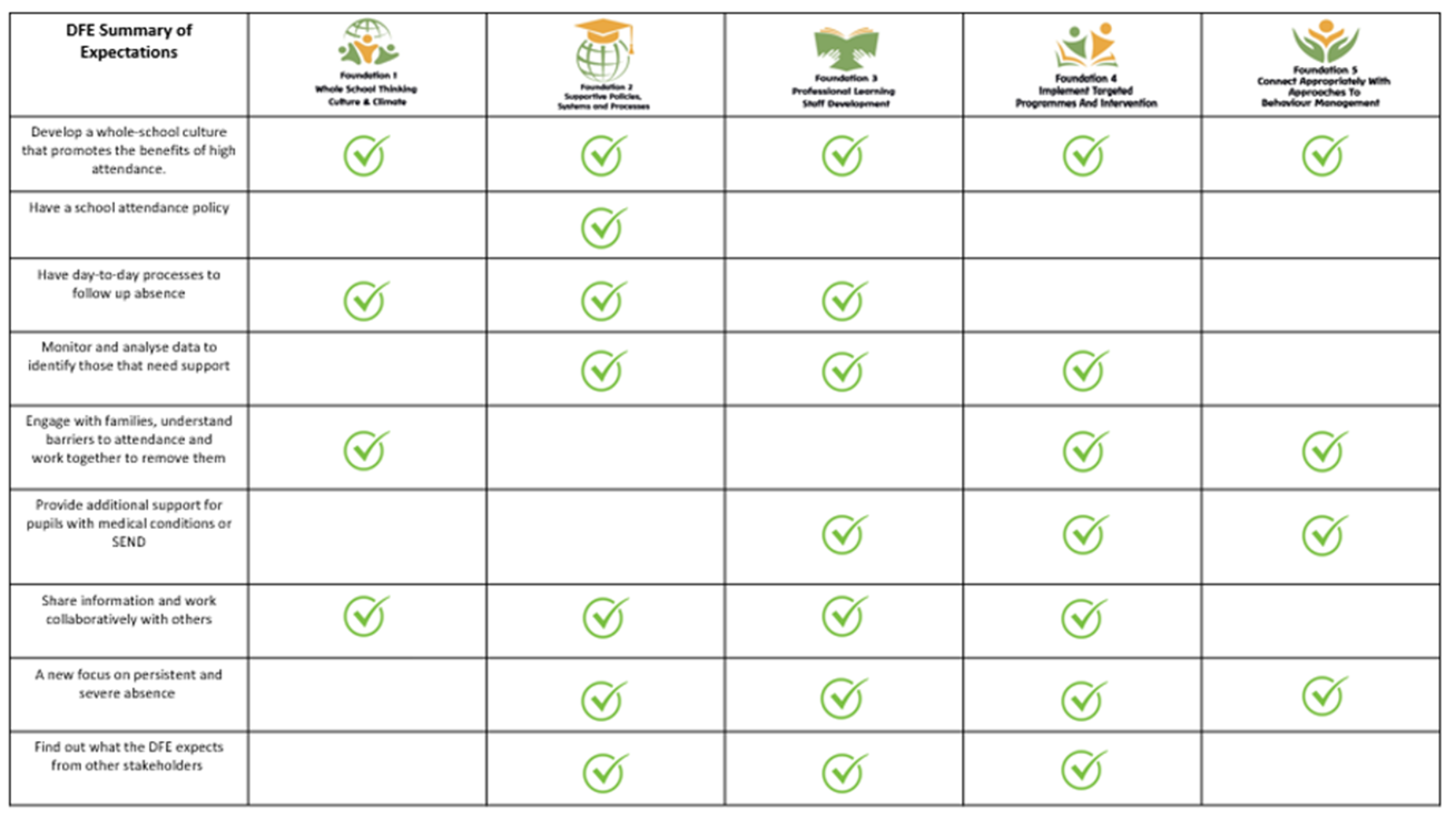 What will educational settings gain from participating in the 5 Foundations programme?
• Prepare for forthcoming changes to guidance and legislation surrounding school attendance and understand the most up-to-date research findings.
• Raise your school's rates of attendance by introducing and embedding your very own evidence-informed 5 Foundations of Effective Attendance Practice framework.
• Permission rights from WHMAT to use the Foundations logos and Key Performance Indicators.
• Access to the 5 Foundations online self-assessment.
• Editable 5 Foundations attendance policy.
• Editable 5 Foundations action planning documents.
• Free membership to the new Foundations National Attendance network. Share best practice on what works to improve attendance and continue to develop a comprehensive toolkit of proven strategies.
• Opportunities to book further consultancy support.
5 Foundations Attendance Programme Sessions
Session 1: Understanding the 5 Foundations of Effective Attendance Practice Framework and creating the attendance strategy.
Part 1: The challenges school face – exploring research and guidance on school attendance. During this session we will consider the implications of research findings from the Education Endowment Foundation, Ofsted and the Department of Education guidance on improving attendance in schools.
Part 2: Using an evidence-informed framework to improve attendance.
This session we will gather a deeper understanding of the 5 Foundations of Effective Attendance Practice framework, underpinning Key Performance Indicators and how they are used in practice.
Part 3: The 5 Foundations Attendance Improvement Process.
During this session we will understand how the 5 Foundations framework is implemented using the Foundations improvement process and self-assessment tool. We will focus on how the Foundations framework cross references with the DFE Attendance paper.
Part 4: Sharing practice and the National Attendance Network package.
The final session will allow us to share our findings and understand the benefits of being part of the National Attendance Network.

Session 2: Developing the attendance strategy and attendance action plan.

Part 1: External analysis of the 5 Foundations self-assessment questionnaire.

Part 2: Creating the 5 Foundations Attendance Action Planning document, using external consultancy support.

Part 3: Aligning the 5 Foundations Attendance Action Plan document and the 5 Foundations Attendance Improvement Cycle.
Session 3: Attendance Deep Dive review.
Part 1: A full day review of attendance practice.
Part 2: Sharing the 5 Foundations Deep Dive resources.
Part 3: Final review of the outcomes of the Deep Dive process and next steps planning.

Session 4: External end of year progress review and next steps planning.
Part 1: External consultancy review of attendance over the academic year.
Part 2: End of year self-assessment review.
Part 3: Developing the new 5 Foundations Action Plan for the next academic year.
Sessions are flexible and can be tailored to meet the needs of the educational setting. The programme is most effective when sessions are delivered in person, however, sessions can be delivered online. Multiple schools or MATs can attend sessions together.
Contact wharris@firs.academy for further information.